Sometimes cooking for everyone in the household can be a challenge. Especially when people are on different restricted diets such as gluten free, vegan or avoiding specific food sensitivies or allergies. In our home a member of the family is gluten free and vegetarian and another eats more "low carb". You can imagine it can be tricky to find meals that satisfy all of these parameters. This Vegetarian Roasted Tomato Zoodle (Zucchini noodle) Pasta is low carb, gluten free, vegetarian and delicious.
This dish is very high in vegetables which can easily be forgotten in today's fast paced lifestyle where we're constantly reaching for quick, processed, high carb items that are mostly devoid of nutrients. Almost every part of this meal is based on a vegetable but its much more fun and full of flavour than eating a big plate of zucchini, tomato and onion.
Zoodles are a favourite of mine, prepared quicker than regular pasta by spirulizing zucchini and cooking in a pan al dente for 5 min with some butter. By buying zucchini and making zoodles fresh you can avoid preservatives that may be added to store bought prepared zoodles. A spirulizer can be bought from many stores for around $25 and is handy for making other kinds of vegetable based noodles. You could easily make this dish completely plant based by omitting the cheese and using coconut oil instead of butter for cooking.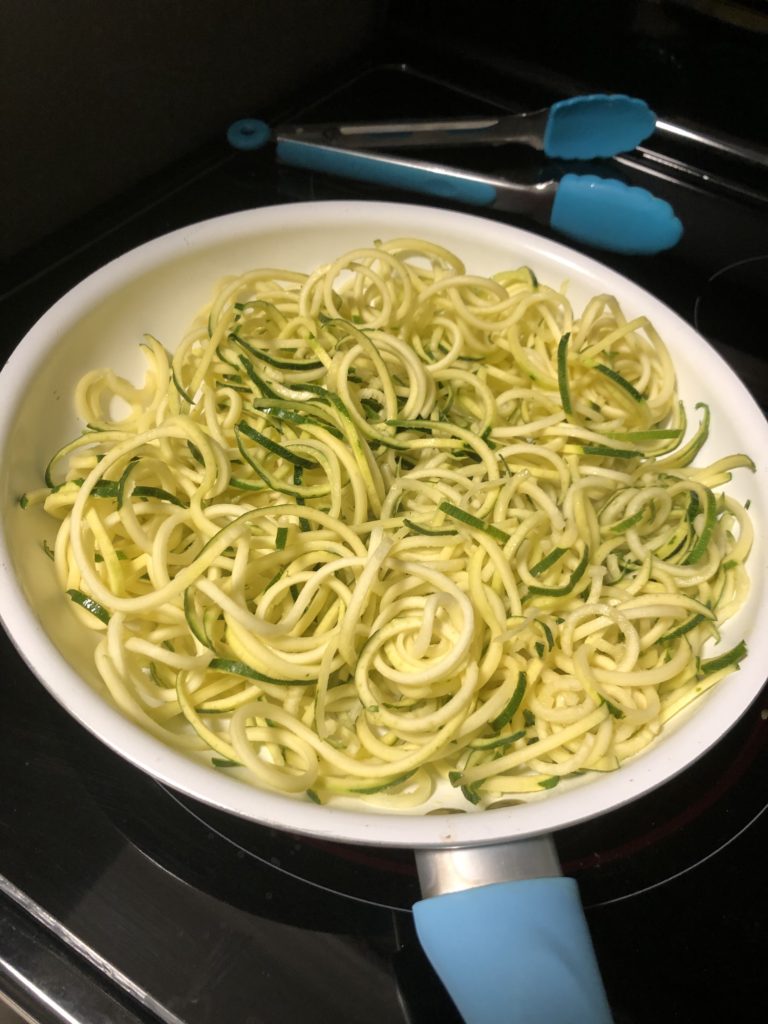 Roasting tomatoes will intensify the flavour and reduces out some of the liquid which helps make a more robust sauce. After cooking the onions, mushrooms and seasonings then adding the tomatoes to reduce further I deglazed the pan with some white wine to bring a little liquid back into the sauce and add flavour. After cooking and taking the pan off the burner I added some extra virgin, cold-pressed olive oil which adds some fruitiness without cooking and oxidizing the delicate oil.
I personally like to use the vegetables I already have in the fridge and create the meal around them so tailor this meal to what you have. Here are the ingredients you'll need, feel free to add other ingredients you may have on hand like peppers or fresh herbs such as basil and oregano added at the same time as the olive oil.
2 medium zucchini
30 cherry tomatoes or 7-8 roma tomatoes cut in half
1 onion, diced
7-8 medium mushrooms, chopped
1 cup cheese
1/2 cup white wine
1/4 cup extra virgin olive oil
1 tsp dried basil
1 tsp dried garlic
1/2 tsp salt
2 tablespoons of butter for cooking
Start by roasting the tomatoes: spread on a pan and cook for an hour at 350 degrees. In the last 30 min of cooking time you can spirulize the zucchini so its all ready to go. Heat up a non-stick pan to medium, then add one tablespoon of butter and the diced onion. Sauté for a few min stirring frequently so they don't burn. Add the mushrooms, herbs and salt then stir for a few more min. Add tomatoes and continue to stir. After reducing tomatoes for 5 more min add the 1/2 cup white wine and stir to pick up anything stuck to the bottom of the pan. Integrate the mixture then pull off the heat before stirring in olive oil.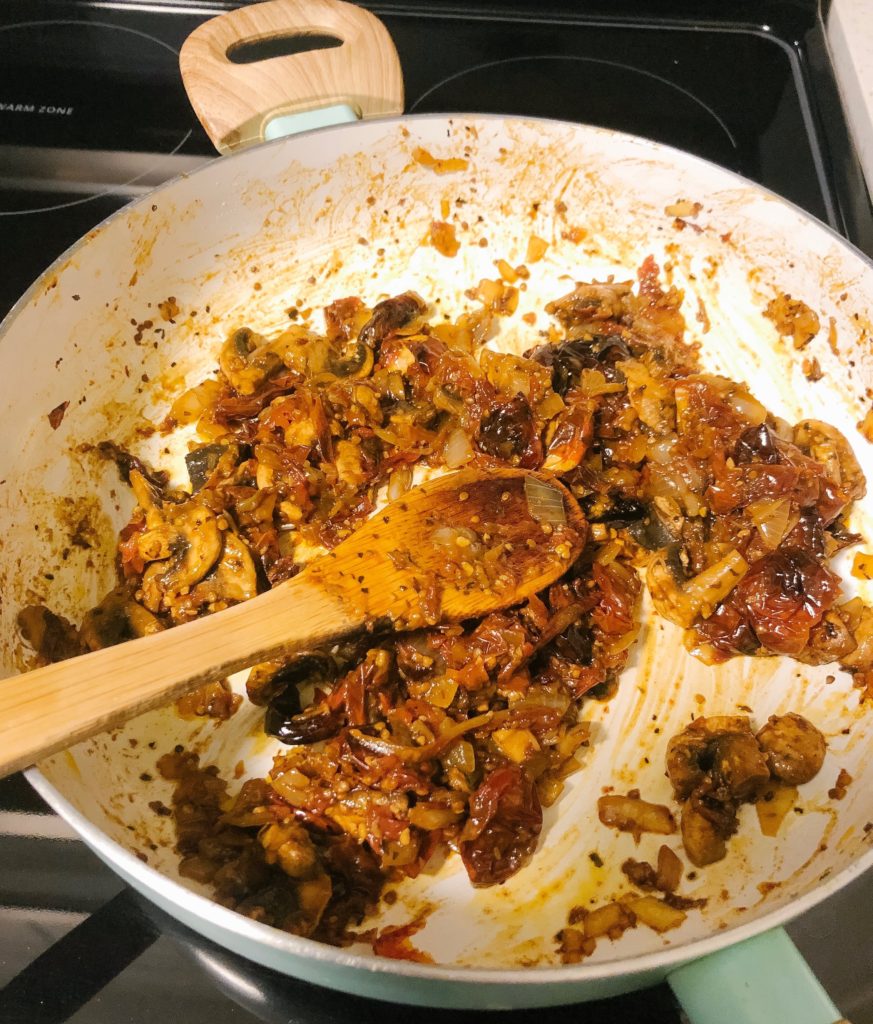 In another pan heated to medium sauté the spirulized zucchini with the other tablespoon of butter. Continue to rotate the zucchini with non-scratch tongs until it reduces down and is mostly al dente. This should take about 5 min. Now add the zoodles and cheese to the other mixture, rotating with the tongs until it is well mixed and serve.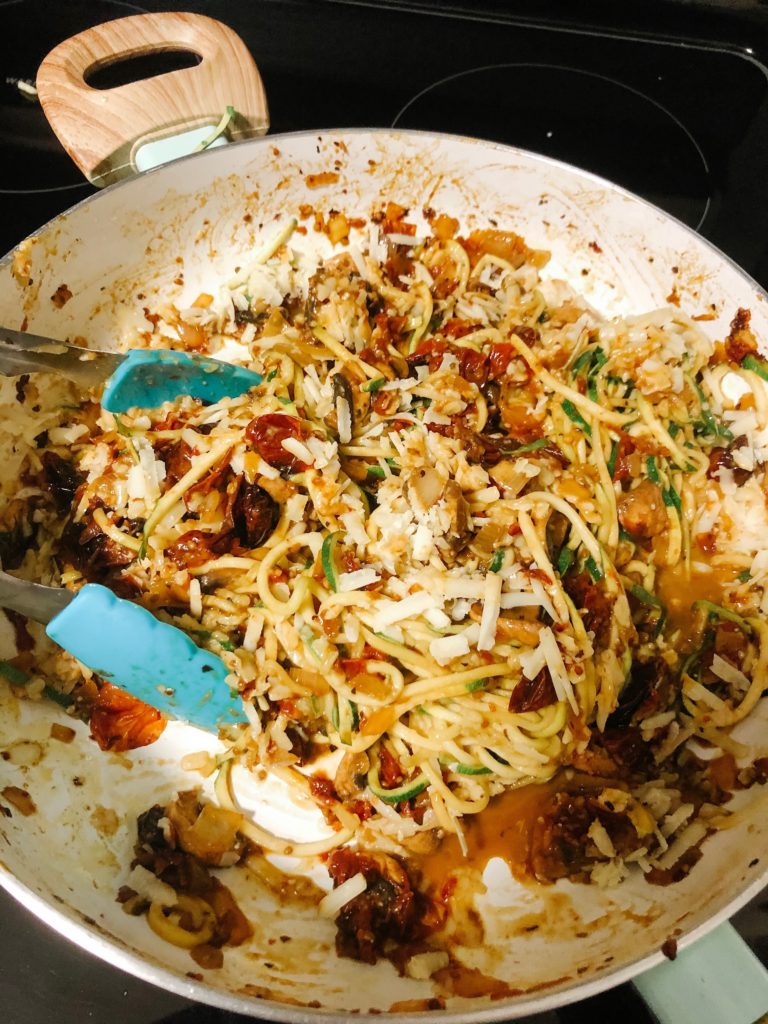 This recipe will make 2 generous servings, please double the recipe as needed if cooking for more people, you may need to use something bigger like a wok to soften all the zucchini.